Aug 15, 2020 05:30 AM Central
Beth Watson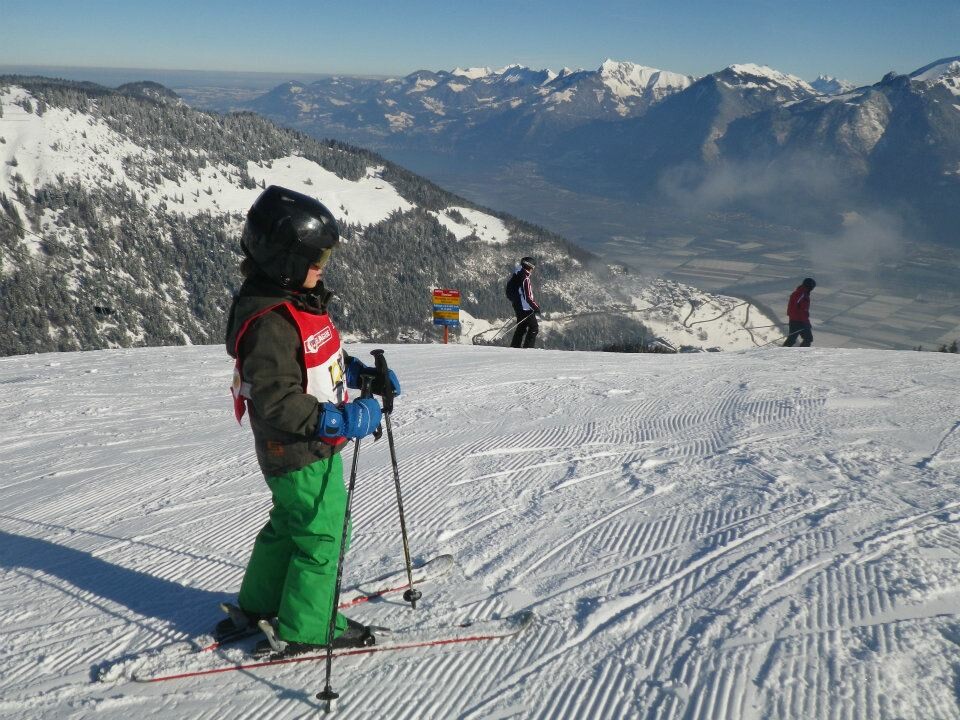 Skiing with little kids? That sentence alone will make many successful and confident adults break-out in a cold sweat and look for the nearest exit.
And they wouldn't be wrong in thinking that skiing with small children can be the cure for fun…however there are many things you can do, if you are an owner of one of these small people, to off-set some of the hassle.

And, now here is the really important bit, IT IS TOTALLY WORTH IT!
The time, energy and patience you spend in the beginning will definitely pay off in the long run, for both you and your offspring. My husband and I are keen snowboarders (although we both started out skiing as children) and decided early on, that this was an activity that we would continue to enjoy, even after pro-creating.
We have taken our kids with us every time and depending on the year, we have had an 18 month old, a 2 year old and I have even been pregnant on three of the trips! (Morning sickness in high altitudes with heavy stodgy Austrian cuisine does not mix…let me tell you!)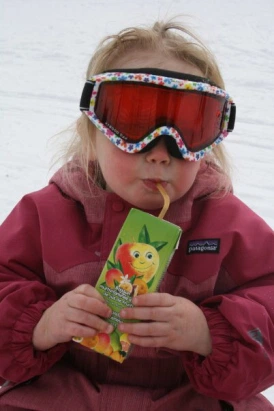 My point is that we made it happen, no matter, so that everyone could keep improving and not lose their confidence and love for the sport. Last season we went to Austria and all skied or boarded. I was newly pregnant, our youngest was 2 and because we live in England (and we have a bunch of kids) we had to drive over 15 hours each way across Europe, but it was one of the best trips we have had. Check out some of the things we find helpful in all the crazy.
Get Them Ready.
You can prep your kids, to a degree, for their moment on the mountain. If it's their first time skiing then constantly talk about it in a really exciting way and give them challenges and goals, you might even get some little treats like magazines or stickers to have on hand. (Goals as simple as 'make a whole morning on the slope without any crying, learning how to stop using snow-plough or getting their ski boots off on their own)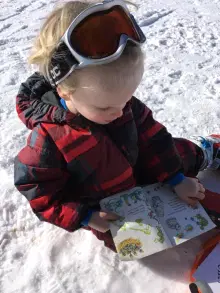 We get loads of books from the library and choose those we own that are about skiing and read these leading up to the trip. We also look through past years' photo albums and talk about their older sibling's first time skiing. This works, believe me, in helping them pump themselves up when their turn comes.
Dress to Impress.
Nothing will ruin a day on the mountain quicker than crappy gear and clothing. Just invest in decent stuff guys. If you have to, rent or borrow gear and clothes that are going to be warm, dry and breathable enough that 'being too cold or wet' is not going to be a reason for them not to enjoy their day.
We have invested in quality stuff that will be literally used over 5 times so you can always hand-down to the next grom. Take that problem off the table completely by preparing them for the weather. Also, if you don't already, get some decent liner gloves for you, as you will find you will need to have your gloves off regularly to help put a little ski or glove back on or wipe a snotty nose.
Out-Source.
Now, this is one of those things that I DO think is worth the money. Ski school! We will save money on road tripping instead of flying but have splurged on amazing ski lessons for our peeps. But let me be clear that I'm only talking about the amazing ski school at the actual resort or mountain where you will be skiing.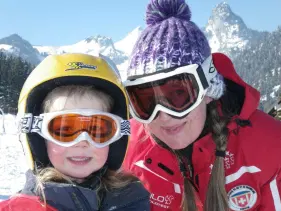 Don't waste you time and money taking them for hour lessons here and there in an indoor or dry ski-slope! The instructors are nowhere near as good and they won't even get your kids doing much, mainly because of over-the-top health and safety and how they stretch out the lessons so you end up buying more. (plus there is no room and it's nothing like skiing on a real mountain)
If you are an elite skier, are an experienced instructor yourself and live on the mountain where you can take your kids out for weekly practice, then never mind…you are awesome. Teach your kids. And I'm a tad jealous.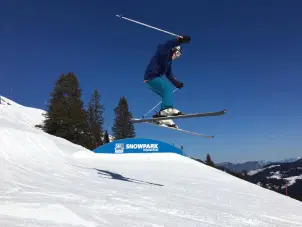 However, if you are like the majority of us, go for one or two weeks a year and are competent maybe even good, it is still worth it to invest in ski school…even if only for a morning or group lesson.
And here's why: You aren't as awesome as you might think, and can teach bad habits and form that might 'work for you' but in the long term will effect their progress. Our oldest has amazing form, thanks to only morning group lessons with a fantastic instructor he gets each season for a week; he is by far better than I ever was at skiing and he is only 13.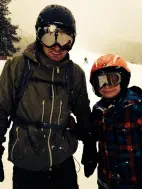 Your kids also work differently for an instructor that they want to impress, and then enjoy showing off to you at the end of the lesson what they have been practicing.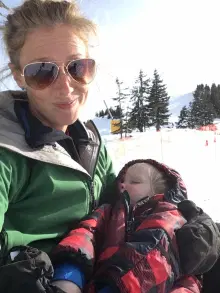 You get to avoid arguing or getting frustrated at your kid on the side of the slope…let someone else do this…someone who does it for a living and is very good at it! Kids also learn and will push themselves more when there are other kids doing the same thing. Having that same-age-example and level of competition can take away fear and excuses for them. (Plus they make friends and ours have improved their French!) We have seen it with all of ours over the years. We have had the kid who was the 'Teacher's Pet' and wanted to impress, the 'Wimpy One' that understood that wouldn't work at Swiss Ski School and the 'Rule-Lover' that thrived on following the instructions. I couldn't recommend this enough and you can have a morning on the slopes to yourself!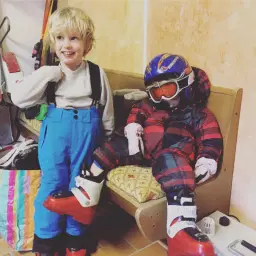 Watch the Time.
Now, this one we learned the hard way. When our daughter had just turned three we put her in the ski school in the mornings and then thought that, after warming up at a long lunch, we would practice more with her in the afternoon…NOPE. This led to an exhausted child that didn't really enjoy anything…even dinner and bedtime. We soon discovered that she could last a long morning but then needed a mellower afternoon of just playing in the snow, reading books or sometimes even a nap. (This has taken place many times at the foot of a lift)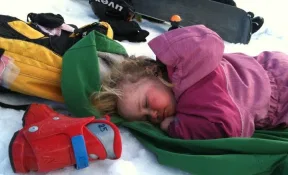 Around the ages of four or five, our kids coped fine with a full day on the mountain. Every kid is different but just be aware those first couple of days how many hours your little one has in them, before it all goes pear shape for all.
Make it Fun.
With our youngest last season, I found out a simple way to get him practicing on his little baby skis. He loves both tickling and animals, so I would go, sit, and pretend to sleep (fake snore etc.) and he would ski up to me and tickle me. I would in turn, dramatically wake up and tickle him back…he loved it and did it repeatedly with excited giggles and snorts.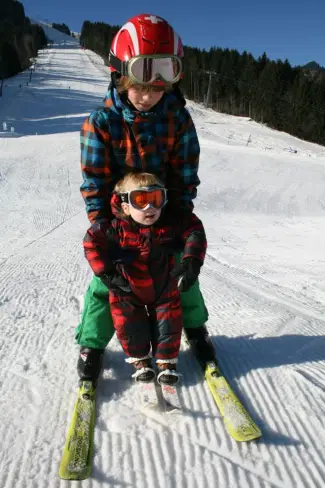 He also like to 'be' different animals each time he came down a slope to me and would make the various sounds on the way for me to guess. Think about what your kid loves and try to incorporate some of that fun.
Our oldest two children are faster than I am now and I struggle to keep up them. They love going to the snow park and having a go on jumps and rails with their dad, who is an immensely better snowboarder then I am.
Last season we were able to all ski or board together!
Hah! Then we had surprise baby number 5 this year so we have a few more years of taking turns boarding and animal noises ahead of us…but I don't mind. It IS worth the work…trust me.